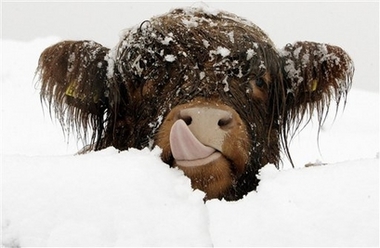 Firstly I want to say a huge thank you to the people who left lovely comments on my last blog post, it meant an awful lot to me. If I ever come across fur coat woman again I'll tell her that her card is marked ;-)
Thankfully the black hole that sucked me up has spat me back out and I'm feeling HUGELY happier because I'm finally home again after 15 months of exile! Yep, I managed to make it back to Scotland during the temporary thaw and the minute I saw the snow covered mountains and the sunset reflected in the lochs something lifted inside my chest. 
Three weeks of being left alone so I can potentially WRITE again is really exciting. Only slight dampner is that BT are sending someone to sort out the broadband tomorrow, the same day that the next lot of heavy snow is due. The inauspicious timing means I'm preparing to go cold turkey, and I'm not talking about Christmas leftovers! I'm currently sitting in an Internet cafe having what might be my last fix before I get gobbled up by a snow drift...
So, if you don't hear from me for a while, think of me snowed in in my remote croft house with enough food for a month, gorgeous views and uninterrupted peace and quiet to write in... Actually that doesn't sound too bad. Perhaps I should set up my own writers' retreat?